Transform the way you age with

20-minute workouts,
twice a week.
Not a fan of

the gym scene?
No problem.
You shouldn't have to give up feeling strong and healthy because conventional fitness isn't working for you.
You should be able to take care of your body in an atmosphere where you feel comfortable.
You can resist and reverse the
'usual' aging process.
We lose muscle mass more and more rapidly as we age. This results in slower metabolism, weakness, bone loss, and generally poorer health.
It doesn't have to be this way!
With targeted strength training, you can change your aging curve to keep more muscle, strength, and energy.

"Helped me lose 40 pounds of body fat without one minute of conventional cardio"
The Exercise Coach helped me lose forty pounds of body fat without one minute of the conventional cardio that had been failing me for so long! Even more impressive – I've kept this off for the last 5 years and feel great.
Ward C. – Lake Zurich, IL
"I struggled to balance fitness among the demands of 3 kids, a business to run & a consuming 60 hour work week"
Finding an efficient program with proven results in The Exercise Coach made all the difference for me and for many of my patients of all ages. Exercise not only builds strength and fitness, it improves mood as well as any antidepressant, improves sleep, focus and cognitive function, and prevents most of the chronic diseases that destroy quality of life or rob productive years for too many. I've seen all the fads come and go, but The Exercise Coach has made me a believer.
"I am amazed at the effectiveness of The Exercise Coach program."
"As a Physician and Human Performance Researcher, I am amazed at the effectiveness of The Exercise Coach program. It is the pinnacle application of Exercise Science and ideal for anyone interested in getting the most out of the 2nd half of live."

How do we help you get results?
20-Minute,

Coach-led Workouts,


Powered By Exerbotics®
Our Exerbotics® technology

calculates exactly the intensity you need.

You'll see proof of your strength gains on our machines and through our mobile app.
Did you know?


Strength can change every aspect of your health.
Studies show that strengthening muscles improves every system in your body.
Strength contributes to health and longevity far more than just "moving every day."



Caring Coaches with a

Strong Track Record
Conventional fitness caters largely to the 15% of the population who are "fitness enthusiasts."
If that is not you. Don't worry. Our program was designed with you in mind and our coaches love to work with people just like you.
Our commitment to meeting people right where they are is what has made us the #1 largest personal training brand in the world.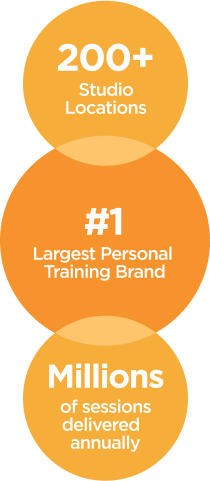 Start Your
Fitness Journey

Start with 2 private sessions at a studio near you.


Your Coach will help you select the best plan and will set you up for maximum results.


You'll gain strength from your first session and you'll always see proof of your progress.
Ready for a different

kind of fitness?

Save time:

20-minute sessions, twice per week

Best-in-class

fitness technology
Accommodating:

Works for those with aches, pains, and special considerations
Lose weight

without hours of cardio

Safe

for all ages and fitness levels

Friendly,

masterful coaches


More affordable

than standard personal training
Thousands of positive


reviews... and counting
Patrick C. – Wheeling, IL
I was lucky enough to meet Brian, C.E.O, when I was working near The Exercise Coach. My biggest problem was "time commitment" required at most gyms. Since I have been working out at The Exercise Coach, I am always in shape and I feel good about myself. It's always a plus to hear that I don't look my age! The trainers are very competent and dedicated in that they truly want you to succeed. I personally appreciate them and have developed a good friendship. The equipment is so innovative and updated, and the ambiance is nice. Also, having set appointments keeps me from making excuses. I am sure that if I had signed up at another health club, I would not visit very often. So I plan to be here another 10 years and why not even more since they keep me in such great shape!
Jerry B. – Arlington Heights, IL
For over 10 years I have been coming to The Exercise Coach because I believe that core strength is very important as you grow older. I am now over 60 years old but feel that I am stronger than I was when I was in my twenties. The staff at The Exercise Coach knows when to push you and when to ease off. A few years ago, I was very close to having back surgery. But, after working on my back strength at The Exercise Coach, I avoided the surgery and now my back feels great!
Terri B. – Arlington Heights, IL
I have been going to The Exercise Coach for over 12 years. It was recommended to me by my doctor because I have osteoporosis. Prior to starting with The Exercise Coach, I had been given an array of medications to help with the condition. Unfortunately, I had adverse reactions to all of them. Hence, Exercise Coach! After two years of training, I had built my bones back up and remained there for over 10 years. The Exercise Coach has made me physically stronger which reduces my risk factors for bone breaks. The side effects for doing something to improve my bones and strength are: more energy; ability to do other physical activity; and a great sense of well-being. Thank you Exercise Coach.
Frank N. – Des Plaines, IL
The Exercise Coach has met all of my needs for a healthy workout system. The time is short and intensive. I don't have to spend long periods of time in a gym to realize the same results. I never plateau, I keep getting better and stronger. The studio is very clean and well managed. I highly recommend The Exercise Coach as a short, safe, well thought-out workout program. I am eighty (80) years old and the program helps me be flexible and strong!
Will these workouts help me

lose weight?
If your goal is to lose weight but you've struggled with diets and cardio, we have good news…
Muscle is the key to resetting your metabolic health.
That means as you get stronger, it will be easier to lose weight… especially in combination with The Exercise Coach® Nutrition Playbook!
America's
#1 Largest Personal Training Brand
Learn More About How
We Transform The Way People Age
How do we help you get results?
Reverse 20 years of muscle loss

with just a few months of 20-minute strength training
Take back your health and energy with short weekly sessions that work for you.